Tollhouse is located about 40 miles south of Yosemite.
Launch is from a grassy area between some ridge-top trees and slopes lightly down until a rocky cliff face.
Access is 4 WD with clearance.   Smaller, low clearance, AWD/4WD may not make it up the dirt roads to Launch.
The LZ is large and slightly sloped grassy area.  There are some power lines nearby, but there is enough room for figure 8 approaches without being at all close to the Power lines.
Mid-Day and XC flying during summer months should only be done by experienced pilots.  Better yet, the site is great for morning flights and evening glass off during the summer season.
Regulations:
Tollhouse is a regulated P3 site, but P2 pilots can fly with an approved sponsor.   All pilots need to be members of USHPA and also need to be current (Annual Renewal) in regards to site fees (info below).   P3 and P4 pilots should get a site intro and are required to join the  Central Valley Hang gliding and Paragliding Association (CCHPA) – the club that sponsors and insures the site.  The Annual Fee for Tollhouse is $80 / Year or you can pay for 1 month at $30 from the day you sign up and pay.   Below is a link to the official club page for Tollhouse – sponsored by the Central California Hang Gliding and Paragliding Club.
Payment  – Please visit the new club site at CCHPC.club.  The club's site page is:  http://www.cchpc.club/tollhouse-site-rules–info.html
Waiver to sign is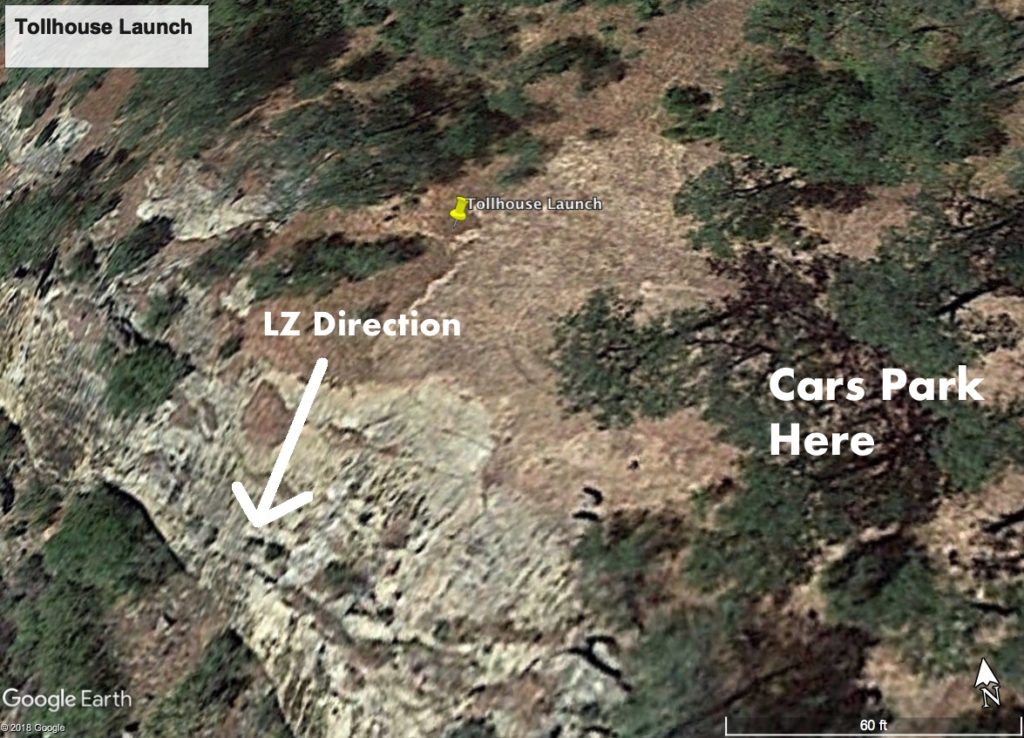 Launch coordinates: Latitude 37° 1'2.16″N Longitude 119°22'23.98″W Launch is 4,100' ft MSL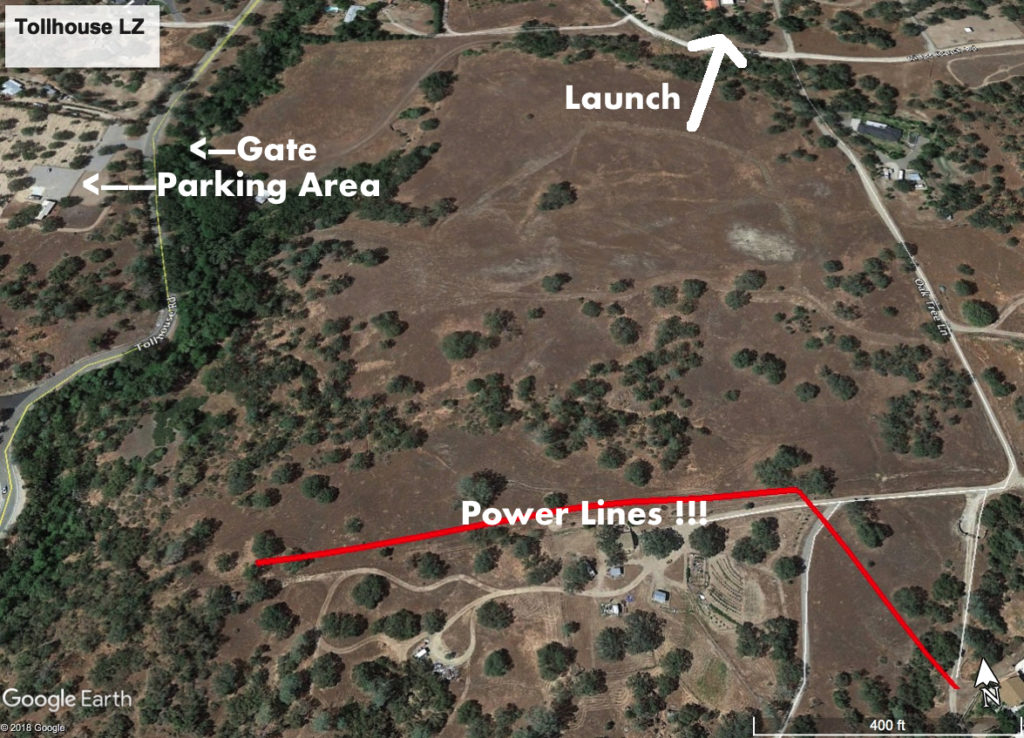 LZ coordinates: Latitude 37° 0'40.35″N Longitude 119°24'1.12″W LZ is 1,900' MSL
Getting to Ron Jones – Camping Property (29122 Gibbs Ranch Road, Tollhouse, CA 93667) Please print out these directions, but if GPS is working, perhaps that will make it easier:
First, get to Highway 152 and Highway 99.
To get to Hwy 152 and Hwy 99 –
From South Bay, go south on 101 to near Gilroy and take 152 east to 99, Head South on 99 and follow below directions.
From SF or N Bay, find your way to 580 East, then Hwy 205 to Hwy 120  to 99 South.   After you pass 152, follow the below directions.
Head Southeast on 99 South
.01 miles
Merge onto 99 South
10 miles
Take Cleaveland Ave exit (exit 155)
.2 miles
Turn left onto Ave 15  1/2/W Cleaveland Ave  (Signs for Millerton Lake)
.2 miles on W Cleaveland
Turn Right to Stay on W Cleaveland
1.7 miles
Continue onto Tozer St
.1 miles
Turn Left onto CA 145 "N/E Yosemite Ave"
17.7 miles
Turn Right onto Road 206
1.7 miles
Continue onto North Fork Road
.6 miles
Turn Left onto Millerton Road
5.7 miles
Turn Left onto Aubury Road
9.3 miles
Continue Straight onto CA 168
2.7 miles
Continue Straight onto Lodge Road
5 miles
Turn Left on Tollhouse Road
.9 miles
Turn Right onto Gibbs Ranch Road
Destination will be on Left Side of Road.
Just before you turn right on Gibbs Ranch Road, you will see a cemetery on the left.  This is where you park when going to the LZ to meet etc.