Robert Allen – July 2005
Robert was here for 2 days of Training while visiting California for work from Indiana. Following the work assignment, he came up from LA to do some training and took a bunch of shots during a tandem flight following his first lesson and progress rapidly in the lessons. He caught great weather and worked up to a couple of 5 or 10 minute soaring flights on his second day (keep in mind this is very rare, so don't expect it if you come out – you have to earn it and have the weather gods on your side).
"I just wanted to thank you for an unforgettable paragliding experience. I was impressed by your knowledge of the sport and your focus on safety as well as fun. I would definitely recommend your class to my friends. Thanks, and I hope to continue training with you soon. -Robert"
————————————————————-
Robert Pat Shanahan – July 2005
With regards to the July 16 and 17th Mtn. Trip to Slide Mountain near Reno. Pat thermalled for about 20 + minutes for the first time on this trip:
"I can't thank you enough for this weekend, it was great in so many ways. It was a trip I'll never forget. We all learned a lot and learned that we all have a lot to learn. I'm already looking forward to the next one, if nothing else, just to test my nerve and see if thermaling is for me."    …
Pat met me by chance one day at the coast and hired me for a tandem flight on the spot:
" I was just thinking how amazing it is that a chance meeting with you at the Dumps has changed a lot in my life."
Sincere thanks,
Pat
————————————————————-
Klaus Stoermer – May 2005
In an email about the May 28 and 29 Mountain Trip to Potato Hill "See Gallery, tons of pictures".
"I finally got to check my e-mail and yes. lots of happy people chatting and sharing great pictures about our magic mountain clinic. What a great wizard we have in Jeff Greenbaum, thanks for all the protective guidance. ("Nova, get down right now, you're way too high!")…
I got too much praise for the breakfast, all our food sharing was great, every meal was super. Thanks to all of you, what great company on such a lucky day, I'm still working on coming down, what a high!
Let's do that again.
Airtime of SF rocks!!!
Klaus"
Klaus launching on his afternoon flight that took him near cloudbase !!!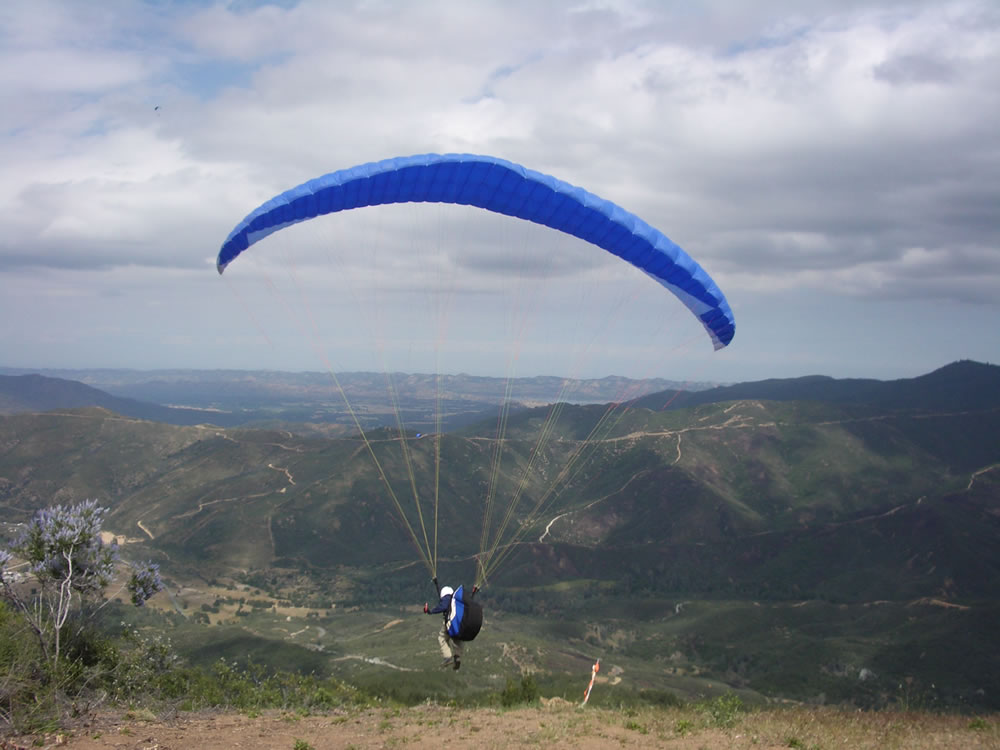 and the card following Klaus' P2 Rating a week or so earlier.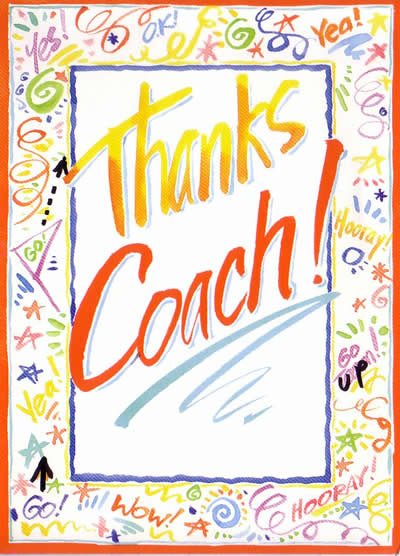 ————————————————————-
Christophe Meyer – October 2004
Hey Jeff,
I really wanted to thank you for your invaluable flying lessons these past few months. I appreciate your passion and dedication to this sport. But mostly, I've been really impressed by the amount of time you spent teaching me, and all your other students. You teach us all the required skills to fly safely and have fun up there.
This unlimited P2 package has been one of my best investments ever. I highly, highly recommend it for whoever dreams to fly one day…
Thanks so much !!
Christophe
Christophe ready to launch at Big Sur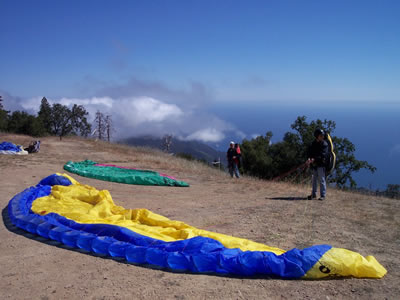 ————————————————————-
Sam Linton – October 2004
…
This is probably a good time to offer my sincere thanks for the great times I had flying this summer. Your attention to detail, enthusiasm for teaching, and emphasis on safety are all very much appreciated!
See you soon.
Thanks,
Sam
Sam Launching at Potato Hill 8-7-04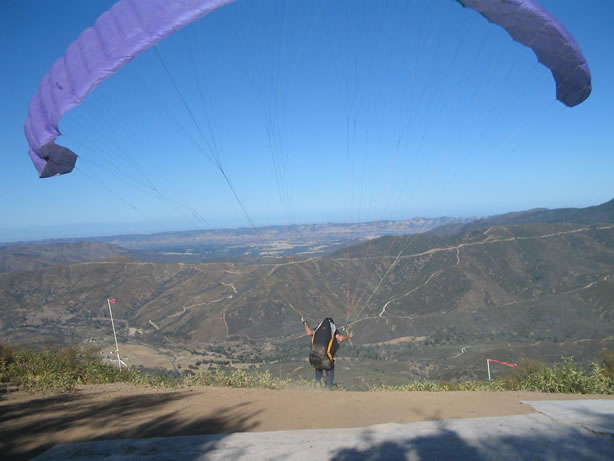 ————————————————————-
Honza Rejmanek – Former Student – Presently Instructor / XC & Tandem Pilot
"Jeff Greenbaum is a very experienced paragliding instructor. He was one of the pioneers of the sport in the United States. When I learned at his school 10 years ago I underwent a thorough curriculum which included adequate supervised practice, groundschool, and literature. It gave me, back then a 17 year old, the right amount of respect and skills to advance in this sport safely yet without unnecessary anxiety.
Jeff has a vast amount of theoretical and practical knowledge. He believes in private or semiprivate instruction which I agree makes better pilots in the end. Many instructors I have seen over the years teach fear, Jeff teaches respect. I would highly recommend Jeff to anyone looking for a highly experienced instructor who gives personal attention to his student's progress."
Honza Rejmanek learned to fly Paragliders in 1993. In 1995 after apprenticing for half a year he got certified to instruct paragliding and a year later to fly commercial tandems. He spent five years teaching and flying tandems on the California coast while getting a biology degree at UCSC. He then had a private business flying motorized tandem paragliding flights in Costa Rica. The last three summers and winters he has flown Tandems in Sun Valley Idaho. Springs and falls he has been offering guided private paragliding trips to France and Chile. He can be contacted at honzair-AT-hotmail.com
Article about Honza and some of his XC efforts …
————————————————————-
John Wilde – USHPA Region 2 – Director
"Kathy (John's Wife) and I have known Jeff Greenbaum since our earliest days in paragliding, as a mater of fact, I can remember the day in 1990 when our fried Jim Leach took us to the old Airtime shop on Wawona St. to meet Jeff, that was the start of our "free fight" experience.
Over the years, Jeff supported our needs for training and equipment, in a friendly and professional way, and we were very sorry when he had to close the shop, it was always a friendly place where plots of both PGs and HGs could stop and socialize. We are glad to hear that Jeff is returning to Paragliding and recommend his services to all who may have need of them, he is an expert pilot, and fine instructor, and we wish him every success."
————————————————————-
Jared Sutherland – Student Pilot after 1 day lesson (See May 31 Gallery)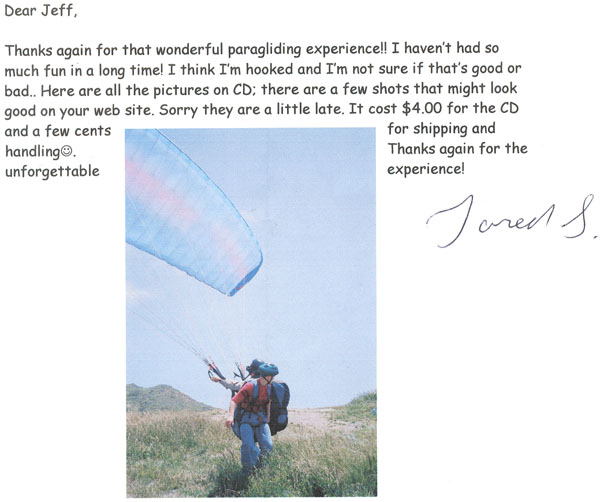 ————————————————————-
Steven Oji – Student in Training (Comments following 8-9,10-03 Big Sur Trip)
Wow wow wow!! Oh my God – what great Photos!!
Really what a great trip!! Thanks everyone who helped organize!
That's nice that you put them up on the internet already Jeff!
Great Great Great!
I'm all over my colleagues telling them what a trip we had.. and finding it
really hard to concentrate at work 🙂
Cheers!
Steve
Steve just after Launch at Big Sur