5-21-07
Following a 2 day trip to Big Sur on May 19 and 20, 2007
Lars just after taking off at Wild Cattle, Big Sur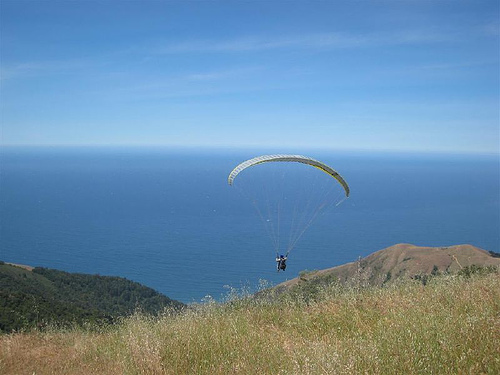 Thanks Bob for posting such great pictures. It is fun to relive such a memorable trip, which was made all the better by all your help and also Amy's, without whom the trip wouldn't have been nearly as enjoyable. And a very big thanks to Jeff, for all his great organization and coaching, which got everybody two fantastic flights. I am hooked for life!
Lars Sorensen
————————————————————-
4-4-07
Hi Jeff,
I am so severely hooked now. That was great yesterday even with my sleep deprivation and resulting apathy.
You are an excellent teacher.
…
Mike Davenas
————————————————————-
3-18-2007
Nick Wilcox – Signed up for the program shortly after…
Hi again Jeff-
I wanted to thank you for showing me a great time for the couple days
of paragliding training… I had a blast. I am definitely interested in
getting my P2 rating from you. I think I will wait until this summer so
that I will be on a dayshift schedule, and then I can save up some more
money! 🙂
Thanks again, and I'll send you an email closer to the summer.
-Nick
————————————————————-
March 13, 2007 – Following 2 day program, signed up for unlimited course a couple weeks later…
Jeff,
I just wanted to thank you again for such a wonderful lesson. Emilie and I had a fantastic time learning the fine art of paragliding with you. I look forward to taking the longer course once I have the funds saved up.
I hope all is well. Thanks again.
Sincerely,
Patrick Buckley
————————————————————-
Jan 2007
Bob Posey – This was posted to my Yahoo Group (other students and members of my yahoo group). Bob joined me in Baja for 3 days while I was there doing an intensive 2 week package for a student from China.
Hello all,
I just got back from a GREAT weekend flying with Jeff in Baja. I
know you've heard it from him, but now it's my turn:
We rented a car from San Diego and drove it down to La Salina (with
Mexican Insurance of course!). NO problems! The roads are in very
good condition, the directions are easy, and we didn't even bring a
map. There are a few tolls on the way, but prices are in USD as well
as Mexican Pesos – you don't need to change money as EVERY PLACE
accepts USD with reasonable conversion rates.
Day 1: We caught a flight out of SFO at 6:30am, and we were in Jeff's
car and headed to launch by 9:45am. The flying was incredible. The
scenery was fantastic. Cantamar offers a great training location
with sand dunes allowing flight with winds from many directions.
After a few warm-ups, I was able to ridge soar by early afternoon
when the winds were about 10-12mph without difficulty. Fish taco's
for lunch – Yum! In the late afternoon Jeff and I got to experience
the "main attraction" of La Salina Ridge. It's a great site with
epic flying offering both thermal lift and (for our flight that
evening) ridge soaring.
Day 2: Salsipuedes! We did a few flights from a site near the
coast. The smaller launch area was a bit more challenging, but Jeff
did a great job keeping everyone safe. After a few good flights,
here, we headed into town (helping a stranded motorist find a
mechanic) for more fish tacos – I could eat those every day. In the
afternoon we did some exploring on a new site Jeff had his eye on.
The "site pioneering" research was incredibly comprehensive, and left
nothing to chance. We walked the LZ, discussed all possible bail
outs, measured the glide ratio, and explored 4 different launch sites
until we found the best setup. It was worth it – I had the flight of
my life! Following the ridge after launch, you couldn't help but
find a nice fat thermal (some of them strong, too) and ride! I made
it over 700 feet above launch and had an unforgettable flight before
I finally ran out of "up" and went to the LZ.
I've uploaded photos to the group, but they don't do Baja much
justice, you have to see it with your own eyes.
Note: 40 meg video of trip and some sites we visited!
I also uploaded a Google Earth ".kmz" file to the files section of
the yahoo group. If you have Google Earth installed, you can see a
3D track of my La Salina and Salsipuedes.
I had the time of my life!
Click the image for full sized view, lines are path of Bob's Flight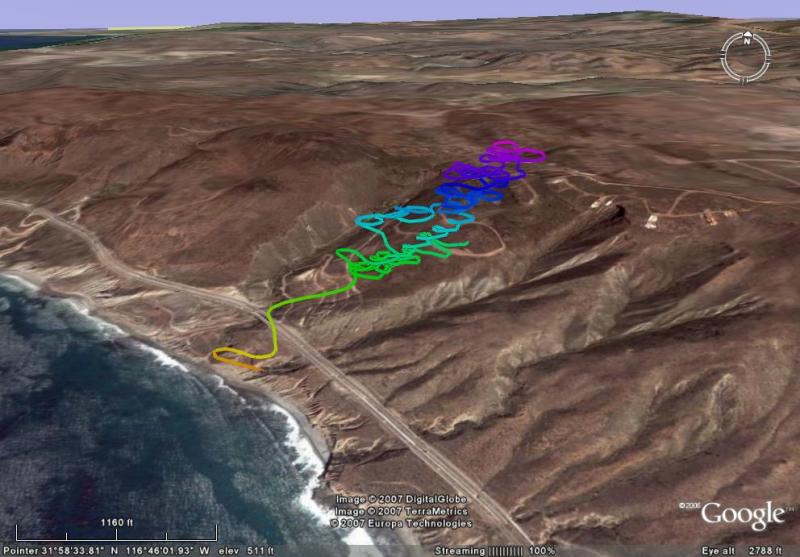 ————————————————————-
Paul Fracolli – July 2006 (Nicknamed P1, his son, also Paul Fracolli, is P2)
Thanks for accommodating P2 (my son) and me with 10 days of instruction in a row. Although I realize this is not usual, I feel the continuity made learning to paraglide easier.
I was impressed with the professional manner that you run the program. You were prompt and dependable throughout our series of lessons. Your 20 years of experience in the sport was evident in your instruction and focus on safety. Although P2 seems to pick things up faster than I do, I never felt impatience or pressure from you to progress faster. Your web site is great. I especially like the calendar that allows your students to view and confirm their lesson dates and times. I enjoyed reading about the Hat Creek trip and the progress of your other students with the group emails. But the best thing is the feeling of flying. And it made it even better when you showed your excitement when we succeeded. Thanks for a great time.
Sincerely, P1 (Paul Fracolli)
————————————————————-
Bob Posey – July 2006
"I just wanted to tell you again how happy we were with the Hat Creek trip. Now that we're home, all we're thinking about is planning another trip there again (hopefully with you!)."
Following the July 21 – 23 – 06 Hat Creek Trip (Link to Photo Gallery of Trip)
————————————————————-
Randy Owensby – July 2006
Hey Jeff,
Just though I would tell you about my day yesterday at Pacifica with Alec. The winds were light about 7-8 according to my anemometer. Even though I lacked the experience to get up in the light conditions, I was really excited about the kiting experience I got. First flight, I launched off of the lower section at Walker. I had a good pull up, centered the wing nicely overhead, stabilized it, and then turned for a good launch. On my second launch, Alec wanted me to try and do what the other pilots were doing, which was to bring the wing up on the lower section and then kite it up the slope to the higher launch. After only one failed pull up, where the wing lost power at the top, I did a good lift straightened the wing turned forward and guided myself perfectly up to launch where I took off. The best one was my last launch, when Alec told me to try stopping at the top of the launch and kite the wing in place for a while, really perfecting its position in relation to where I want to launch while also waiting for a good cycle (several of the good pilots were doing this-like Arnel).
I did the same as before, inflating on the lower section, walked the wing up, but then I was able to stand on top of the launch for a good minute or so just feeling the winglish. I was really able to just feel the slight pulls on my harness and make the subtle changes…it felt really awesome. After kiting on the edge of launch I took off left toward the parking lot. When I landed, I was still in the thick brush so I decided to kite the wing in the forward facing position, which I was able to do for a good 75 yards. Sorry this was so long, but I just had to describe the great day I had.
Randy