Private Lessons (midweek only)
$300
1 Day "on the hill" Intro

Included in the 2 Day Intro course is a 3 month access to the Subscription Articles that include training videos.  1 day of training focusing on launch and landing practice.
1 Person $300 / 2 People $500 / 3 People $700 / 4 People $850

2 Day Intro
Designed to get most students to a P1 Beginner Paragliding Rating.  Included in the 2 Day Intro course is a 3 month access to the Subscription Articles that include training videos.
The fees for this program can be applied to a full P3 program, but this must be done within 1 month from 2nd lesson.
1 or 2 Persons            $500 each
3 People                       $400 each / $1200 total
4 People                       $350 each / $1400 total

Pay As You Go   (Buy an initial block of 5 lessons, then continue at same rate for more lessons)
$1000 for initial block of 5 lessons / $200 per day after 1st 5  —  (If you buy a new glider package within the first 5 lessons, you get $800 off the package, after that, you get $500 off a new package)

---
P2 Basic (6 Month limit, Unlimited lessons to achieve P2)

In this package you will get unlimited training to the P2 threshold (Lessons must be completed within 6 months of 1st lesson). I like to include in packages guidance for ridge soaring as well as some Mtn. training ($600 value), so would highly recommend looking at the unlimited P3 packages for most students. On the other hand, some students have friends that are active members of the community ( In such a situation, some students might have their friends as a resource for the more advanced training).  I also get foreign visitors that are here for an intensive program where the extras cannot be arranged.
Most schools use a modular program, but we know that the best solution is to include all modules into 1 program and have a package discount for all – The P3.  Please call me and ask if you have questions about the differences in programs.
$2150  (If you buy a new glider package within the first 5 lessons, you get $800 off the package, after that, you get $500 off a new package)

---
P3 Deluxe Package
If you know you want to learn how to Paraglide, this is the package for you. Each student has a full year to complete the P2 portion of this training package (much better to achieve this in a few months, but if something comes up, you have the full year to complete). The  program includes coastal soaring introductions (Top Landing and Soaring) and a 2 Day Mountain (Students must have their own harness / reserve for Mtn. trips – A wing can be included as part of the program, but the school does not have enough harnesses with reserves for these trips).  After achieving the P2 rating and getting the coastal soaring and mountain trip training, students can come out and fly alongside classes and get tips and spot coaching to help them achieve their P3 rating.  Additionally, each student I graduate in this program can come back for ground handling tune ups free of charge forever after graduation from the package. Each student also receives free testing and observations for more advanced ratings forever after completion of this program.
There should never be a rush to get your paragliding ratings. With this package, you can focus on getting all of the skills and not have to worry each lesson day about cost. If the weather starts out good, but gets bad, we can still accomplish a lot in the good part of the day because of the small paragliding class size.
$2450.00  (If you buy a new glider package within the first 5 lessons, you get $800 off the package, after that, you get $500 off a new package)

EXTRAS
$650 in Post P2 training 
Intro to 600′ hill at Ed Levin Park,

Coastal Soaring and Top Landing Training ($300 Value!)

A 2 day Mountain / Thermal clinic ($350 Value!)

 Kiting Coaching  (forever!, no 1 year limit)

Free – Testing and spot landing observations




for Intermediate and Advanced ratings
---
Carpooling?  If you do not have a vehicle or prefer to carpool:  
I can work out carpooling to either Milpitas (flying tasks) or to any of the ground handling venues, as long as you are in route or can get to a point in route.   Details about this can be discussed on the phone.
---
Article Access: 
I have an article access section on this website.  This is virtually a full manual but with the advantage of having videos and interactive links and quizzes that will speed and improve the learning process.  In the full or pay-as-you-go programs all students will receive a 3 year subscription with their program.   For the Introductory 2 day courses, students will have access for 3 months.

The only exception to this is the Mountain Trips that are included in the P3 program.  For these two day clinics, each student needs to have their own harness and reserve parachute.   In all other lessons the reserve chute is not required and I provide all gear for such.
Tandem flights can also be a way to "test the air". For a student that is seriously interested in becoming a pilot, I would be much more inclined to recommend an intro course. The reason is that the experience of learning to launch yourself and fly yourself has a much greater rate of impetus for the student to move all the way into flying. For those that are more into a a single fantastic experience, but are not as serious about wanting to learn, then tandem is the best choice.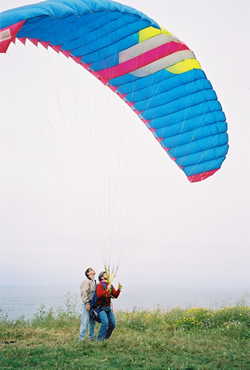 The primary season for coastal soaring (Tandem Program) and more consistent weather (The "summer season") is between March and October. The weather will come into play a bit more between November and February, but when storms are not hitting, there is great training available this time of year as well. I also have special packages for winter season for people that want to do intensive training in a 2 week in Baja California (very consistent weather from Nov. – Feb. to gain their Novice / P2 Rating
Paragliding Lessons – Class Size:


Class size is never more than 4 students.

In all lessons other than the 1 day program (In the 1 day program, we begin with wing inflations and move quickly into launches), the focus will begin with a full day of Ground Handling:
The first step and often the entire first day, is to learn about the wing, how to set it up in preparation for the launch and learn how to get the wing overhead. This is done first on a flat area to teach the technique in pulling the Paraglider overhead. On day two, we move to a small hill and do several flights with a straight glide to the landing area. Once the launches and landing look good and the student has done some minor steering, we can move up to the higher launches and add some steering. The most difficult part is the take off and landing.
Satisfaction Guarantee


I am confident that each student will be satisfied with the lesson structure and instruction experience that is provided. In any program other than the Unlimited or Pay-As-You-Go programs , if someone is not satisfied in this regard, I will give a 100% refund for their lesson, no questions asked. In the Unlimited Program or Pay-As-You-Go, any student can downgrade to a two day program and get their balance back within the first two lessons.

Gift Certificates available for all Lessons / Packages
Special Priced Equipment Packages 
available with Unlimited Lesson Plans… (Save $800 on a full gear package)
---
Mountain Trips / Thermal Clinics

2 Day Mountain Trip     
$350 (One trip included in P3 program) / In P3 program free Site Intros after 1st coached trip

 Site Intro Only (no coaching – available for Airtime Graduates)  $30 flat fee / Mtn. Trip, waived for P3 Program Students.
---
Ridge Soaring  / Coastal Introduction Clinics
1 Day Soaring Introduction (3 hrs)  $250

Note – P3 Program Students (this is included in the program)
---
Tandem Paragliding
If getting up in the air quickly is your goal, perhaps tandem is the ticket. If a student takes any of these and decides to jump to the Unlimited "Novice" Paragliding Lesson program, the price of the their lesson will be pro-rated toward the full program.  For full information on Tandem Flights  Go to tandem programs page…
---
Rules and Policies
There is a 48 hour cancellation policy for all lessons, including tandem.

Canceling with less than 48 hrs is considered a No Show.
No Shows: Failure to show up for a lesson or canceling with less than 48 hrs forfeits the lesson fees.  Showing up more than 20 minutes late is a "no show". (For students in the unlimited or P2 programs, the charge is $75.00 for no-shows).

The unlimited P3 program has a 1 year time limit from the first lesson to the P2 rating, the P2 Basic has a 6 month limit. All other lessons have an unlimited expiration unless stipulated otherwise.

Lesson or tandem purchases that have not been started or used can be transferred to another party.

Refunds are not available for weather cancellations. Lessons or tandem lessons canceled due to weather are re-scheduled as many times as necessary until success is achieved.

For Tandem Passengers from out of town, if the weather does not allow a tandem flight to occur, a $50/flight processing charge is required to set up and cover the efforts for scheduling and planning the flights. Normally, this is processed in advance as a non-refundable deposit.